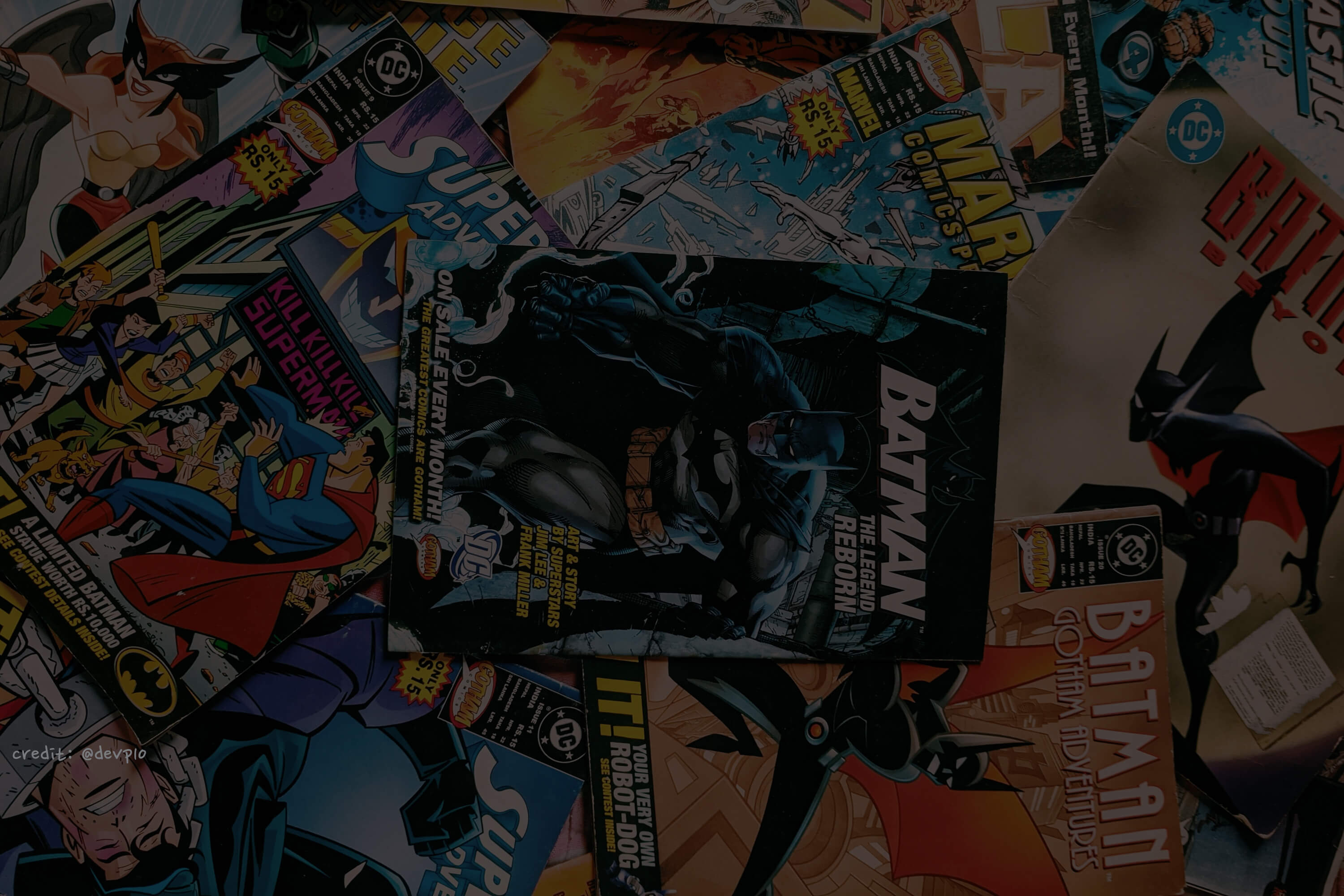 Almost Complete
Timeline of DC Comics
A simple timeline spanning 36 years worth of comics
Prelude
I highly recommend reading this article on a bigger screen, preferably your laptop/desktop for the best experience.
I've written about my obsession with books before and how it has transformed over the years. I haven't put comic books there as a part of my reading history because I've read way too many of them and they'll skew the data. Before we dive into the universe of comics, I want to clarify that comics are not a genre, but a writing style that come in a variety of genres.
There's a misconception that comic books are written only for kids but when you dip into the infinite universe of comics, you'll be surprised!
Most of us are aware of the juggernaut from Japan - Manga. It has its own visual language, style, and expression and we have a generation of kids that grew up on anime like Dragonball Z, Naruto, Bleach etc.
India too, has had a great homegrown scene with the likes of Amar Chitra Katha and Tinkle! There's some great work being done by Campfire now, and with the advent of webcomics, we have an ever-growing community of not just comic readers but also a lot of great indie comic publishers who have continued to push the envelope and have turned around some beautiful stories. If you're interested in exploring some of these, I've made a post of my favourites here!
DC Comics
I've always been a fan of DC's heroes and the stories they put out. DC has a long history. Popular characters have been in their comics since the 30s. With almost a 100-year history, where do you begin?
This is where I come in. I've been reading the comics for a long time and kept a hand drawn timeline chart to help me read them correctly and I will be taking you through all of it! Before we begin, a couple of disclaimers and clarifications. I haven't made a timeline of every single DC comic out there. I've followed two heroes through almost all of their history - Batman and Flash.
Why these two? Batman, because… Batman. Flash is a character people know as the Fastest Man Alive but that's not all. He's optimistic, has great one-liners, uses his knowledge of science to do some pretty cool stuff with his powers, and is a hero because he loves helping people. He's the kind of hero who gets pizza after he's saved you. His rogue gallery is as good as Batman's and his suit is KICKASS. As we're about to see, these are probably the two most important characters in the DC universe.
Guide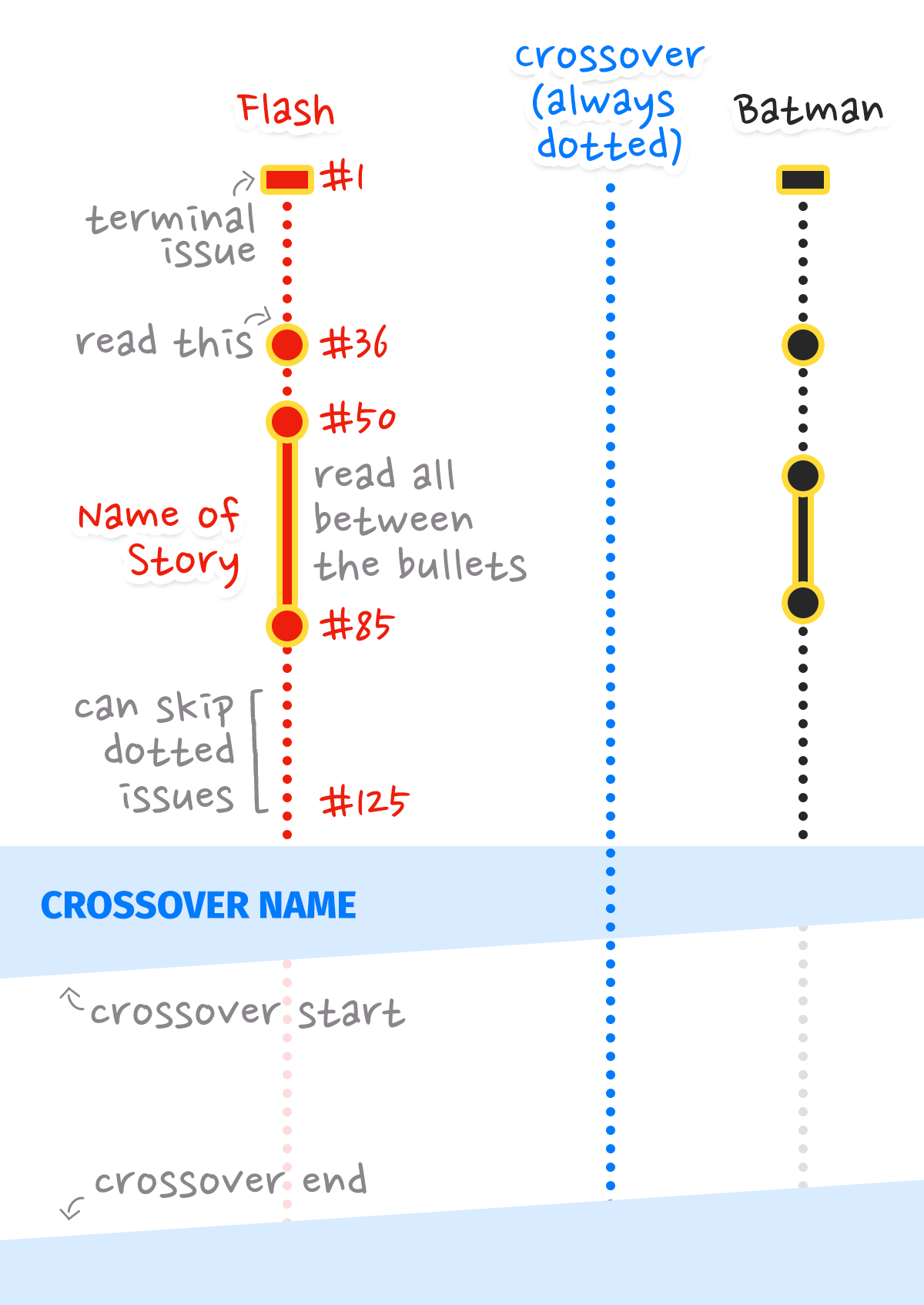 The guide above helps you read the timeline easily. I will mention volume number whenever it changes, will use partial names and try to describe the eras with minimal plot details to remain spoiler-free. Crossover events need to be read in the exact order they are shown.
Where to start?
If you want the full historical background, you could start from Crisis on Infinite Earths
If you have time at hand and want to enjoy some great stories, you can start with the New 52 era (my recommendation)
If you want to skip and get straight to it, start with the Rebirth era.
I've used my personal reading experience, issues and chronology from ComicVine, and lists from Comicbookherald and Howtolovecomics to navigate through what issues are to be read in what order. I have made some changes that I think elevate the reading experience. This is only my opinion and not the definitive version.
I've made a list of every single comic book I've recommended in this article. They are all affiliate links and help me keep doing this.
The Modern Age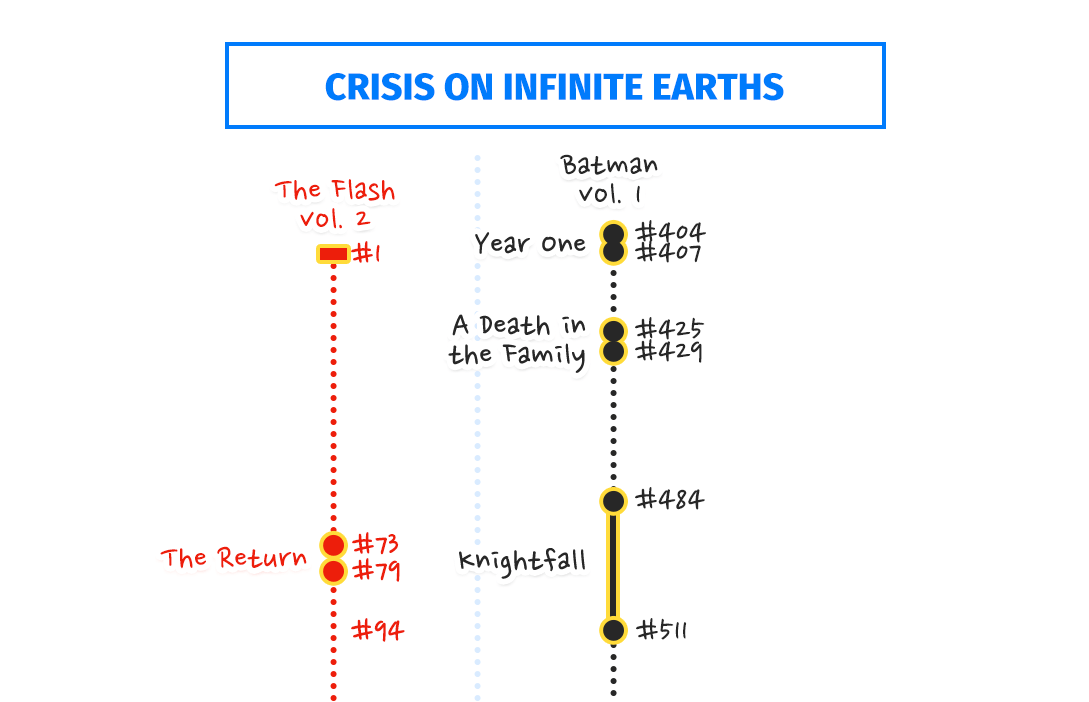 Crisis on Infinite Earths
CoIE is a turning point in more ways than one. It puts "Crisis" on the map as a huge crossover event in DC folklore and reboots the DC universe. This is landmark because it has a lot of characters from a multitude of books taking part. It popularises these large-scale stories for years to come and splits the timeline into "Pre-Crisis" and "Post Crisis". I'm choosing this as a starting point since it rebooted the DC universe, and also so you have some context before jumping into issues that come directly after it.
Post crisis, Flash gets a new volume, and a wonderful story runs from issues #73 to #79. This was also a great time to be a Batman fan because we were treated to some amazing stories that set the tone for who Batman is and what he's capable of even though he has no superpowers. This is a guy whose backup plans have backup and there hasn't been a SINGLE movie that has captured the essence of Batman. If you look up some of the greatest graphic novels of all time, you'll see a couple of them from a single hero - Batman.
Something about Batman has drawn writers from around the globe and it all started because of Frank Miller, IMO. Before it, the Batman was a simpler character. Miller had already written the wildly popular "The Dark Knight Returns" and was now asked to reboot Batman. He gave birth to one of the most popular and arguably one of the best origin stories of all time - Batman: Year One. Mazzucchelli's dark, gritty art combined beautifully with Miller's script and set the tone for the superhero for years to come including inspiring Batman Begins. Great first Batman comic to pick up!
After that I'd recommend Death in the Family. It's pretty dark and equally ridiculous in some places but it's crucial purely because of the ramifications it has on Batman. After this comes the big one - Knightfall - another iconic Batman story which elevates Bane as one of the most dangerous villains ever. It's structured as a gigantic trilogy (Vol 1, 2, 3) so instead of reading all of Knightfall, I recommend reading the novelised version. It's tighter and does away with superfluous parts of the story.
We then get into Zero Hour, which is another crossover event.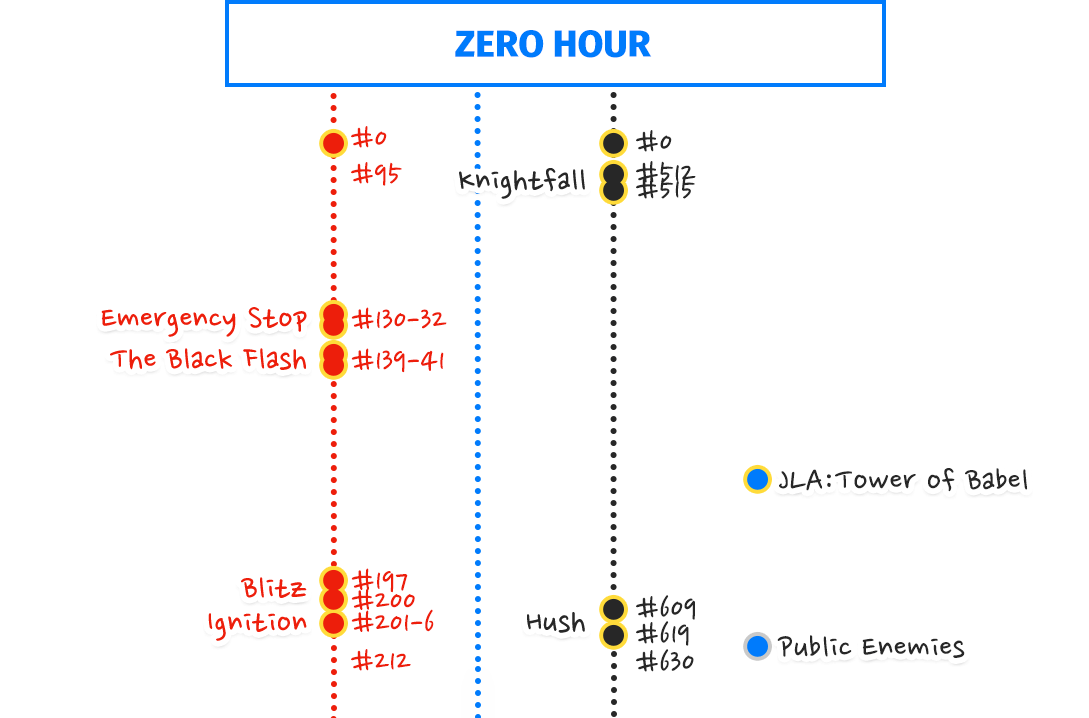 Zero Hour
Zero Hour leads into Issue #0 for both characters. Emergency Stop & The Black Flash showcase some prominent character development and goes on to lay the foundation of an exciting plot for Flash. Geoff Johns takes over and for most of the 2000s gives us some amazing Flash, Green Lantern and DC stories. Johns first doles out Blitz and Ignition. About 15 years later, he also goes on to oversee and develop The Flash TV series and other DC shows dubbed the Arrowverse.
The Tower of Babel is technically from Justice League of America but it's an AMAZING story you must read. Hush is another stellar Batman story and soon after, we have Batman/Superman: Public Enemies, which pits the two major characters together and how different they and their values are.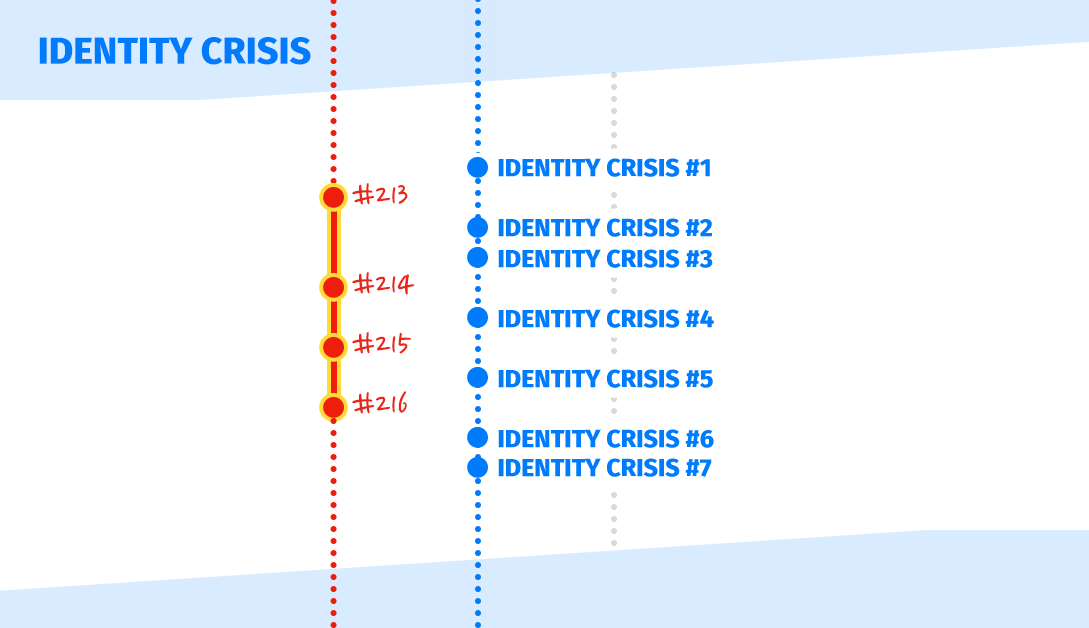 Identity Crisis
The next crossover event is Identity Crisis, which is basically a superhero whodunit mystery! I don't think it really counts as a Crisis. It is nowhere close to the scale, or the ambition of Crisis on Infinite Earths, but does have the shock factor. It puts Flash under the spotlight a little and hence it's tied closely with the individual issues. Remember to read them in the same order as shown (Identity Crisis #1, then Flash #213, so on and forth).

Post Identity Crisis
We don't have much here between the two crossovers except the two stories highlighted. Rogue War is Geoff Johns at his peak and the less I say about the amazing Under the Red Hood, the better.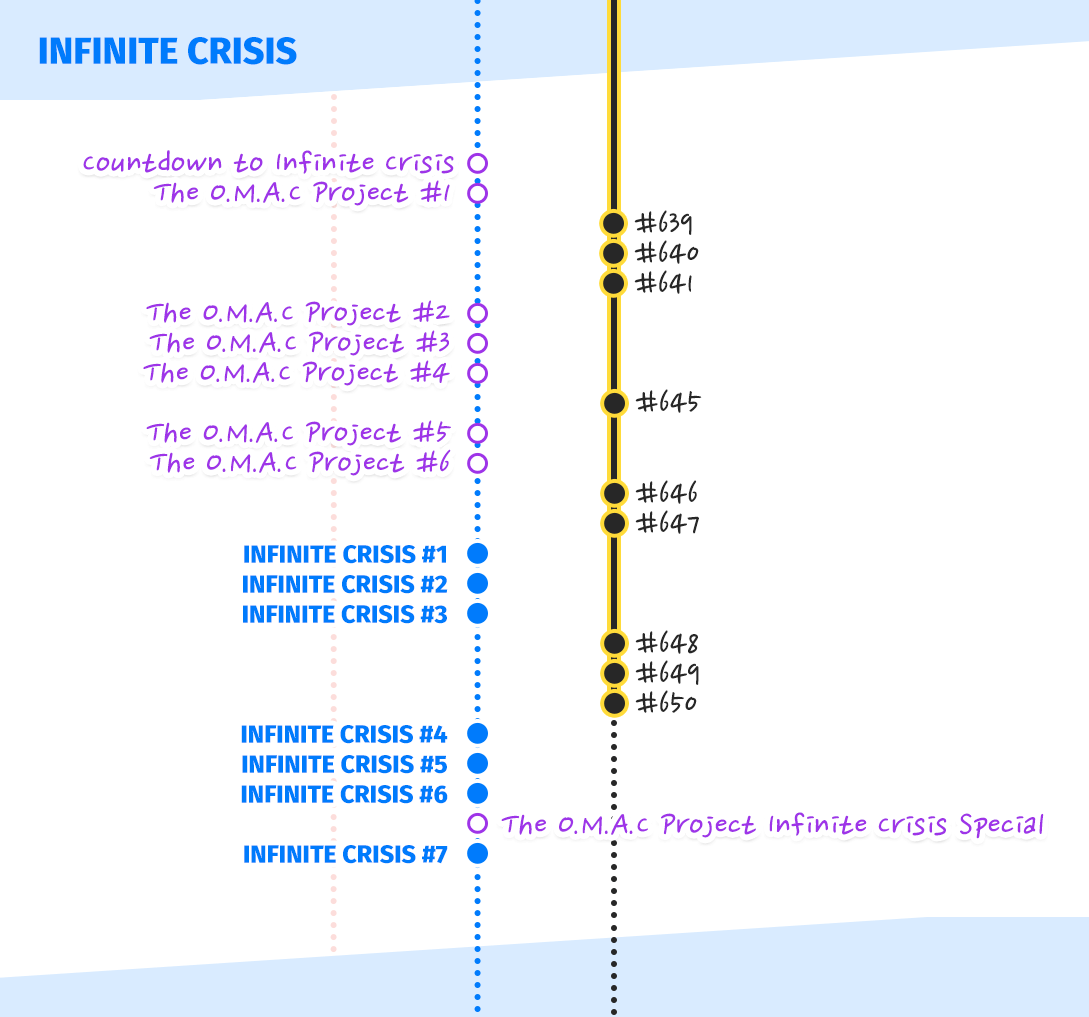 Infinite Crisis
This leads us into another colossal crossover, again written by Geoff Johns; Infinite Crisis, that started almost a year in advance. It functions as a direct sequel of sorts to CoIE. Infinite Crisis comes very close in ambition and scale and fits perfectly with the violent tone DC had undertaken at that time. There are too many tie-ins, so I've only put down ones that I think are essential in the visualisation (collected here and here).

Post Infinite Crisis
Post Infinite Crisis, Flash spins out into a 13-issue "The Fastest Man Alive" which leads into the last issues of Flash Volume 2.
There are two main story lines from Batman's perspective and this is the start of Grant Morrison's legendary run on Batman, which is in parts weird, stylish, extremely audacious and ambitious. He holds nothing back and starts with Batman and Son which continues into another crucial story - Batman R.I.P., which culminates into another major crossover written by Morrison himself; Final Crisis.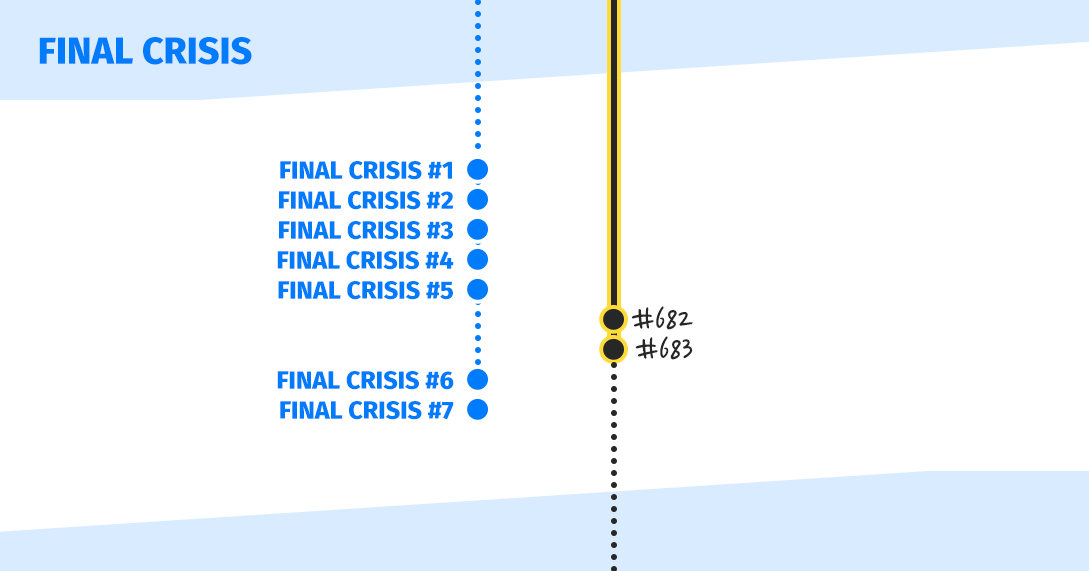 Final Crisis
Final Crisis, like everything Grant Morrison wrote was balls-to-the-wall insanity. It is his love letter to comics and the DC universe and has references so obscure you'll need a compendium. If you can leave curiosity aside and read the story as is without pulling on historical threads, it's a decent read. Personally, the aftermath of Final Crisis lends a lot more to this experience than the Crisis itself.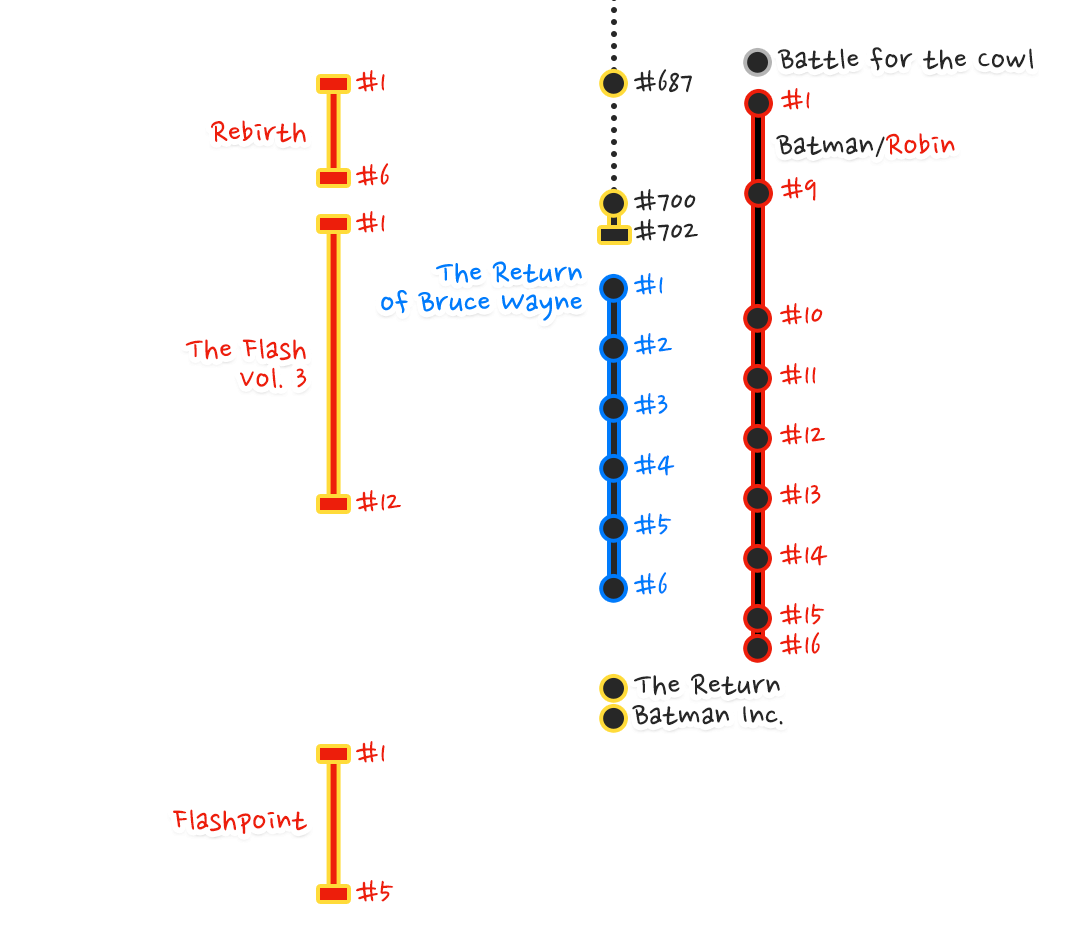 Post Final Crisis
For me, this is the most exciting and critical stage.
Spinning out of the Crisis is Flash Rebirth and Flash Volume 3 both written by our old friend Geoff Johns. Then read Battle for the Cowl, Batman #687 followed by Batman/Robin #1-9 and circle back to finish up Batman #700-702, then fuel it up with The Return of Bruce Wayne with Batman/Robin alternatively as indicated to see Grant Morrison in his full glory. Rounding up Morrison's era is Batman: The Return and Batman: Incorporated. Batman/Robin can be found here and Return of Bruce Wayne is here
Once you've had a chance to settle down, saddle up for Flashpoint because this is one of the most important events to ever happen in DC comics and one of THE greatest stories ever written by (say it with me) Geoff Johns!
New 52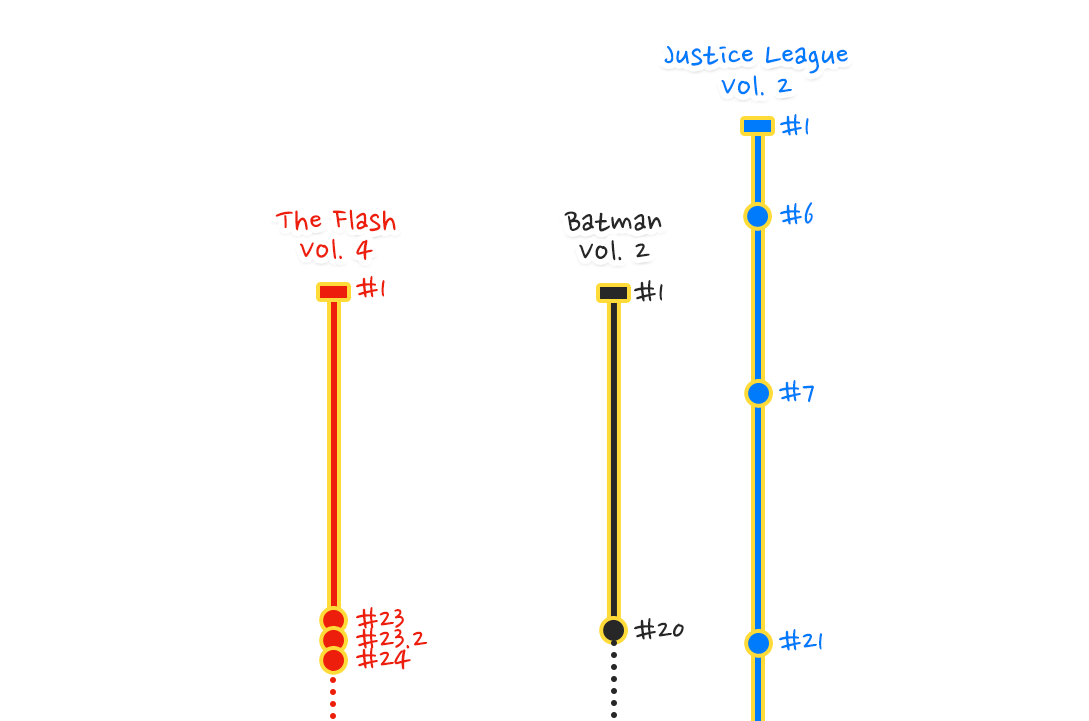 Welcome to the New 52 era! You'll see a new blue line with yellow outline added here to differentiate it from the pure blue crossover line. That's Justice League! I'd never actually been a fan of JL comics until I read New 52 JL. Almost all the issues are amazing and it's one of the two comics that were incredible in the New 52. I then discovered Geoff Johns wrote them too :) Begin with the first 6 issues of Justice League Vol. 2 to kick off New 52. Set slightly in the past, it introduces all of our new characters.
Then go ahead and feast your eyes on Flash Vol. 4 as Francis Manapaul and Brian Buccellato's run begins. This is hands down some of the best art in DC comics ever. I could hang almost every page as a poster and admire it for hours. They make Flash wondrous and exciting again. The stories they wrote have some amazing moments and some duds here and there, but this is still a solid run with a strong end on Flash #24.
After that begins Scott Snyder and Greg Capullo's run on Batman which genuinely blew me away. Their run on Batman is THE winner of New 52 for me. You'll see a solid line run through the whole volume which means I recommend every single issue they wrote and they're on target almost all the way through which is insane for a character like Batman. I thought almost every story had been told, his psyche analysed, his rogue gallery filled and yet they proved me wrong on all counts. Read it to Batman #20 first, and then go back and finish JL #7 - #21 which directly leads into Trinity War and Forever Evil.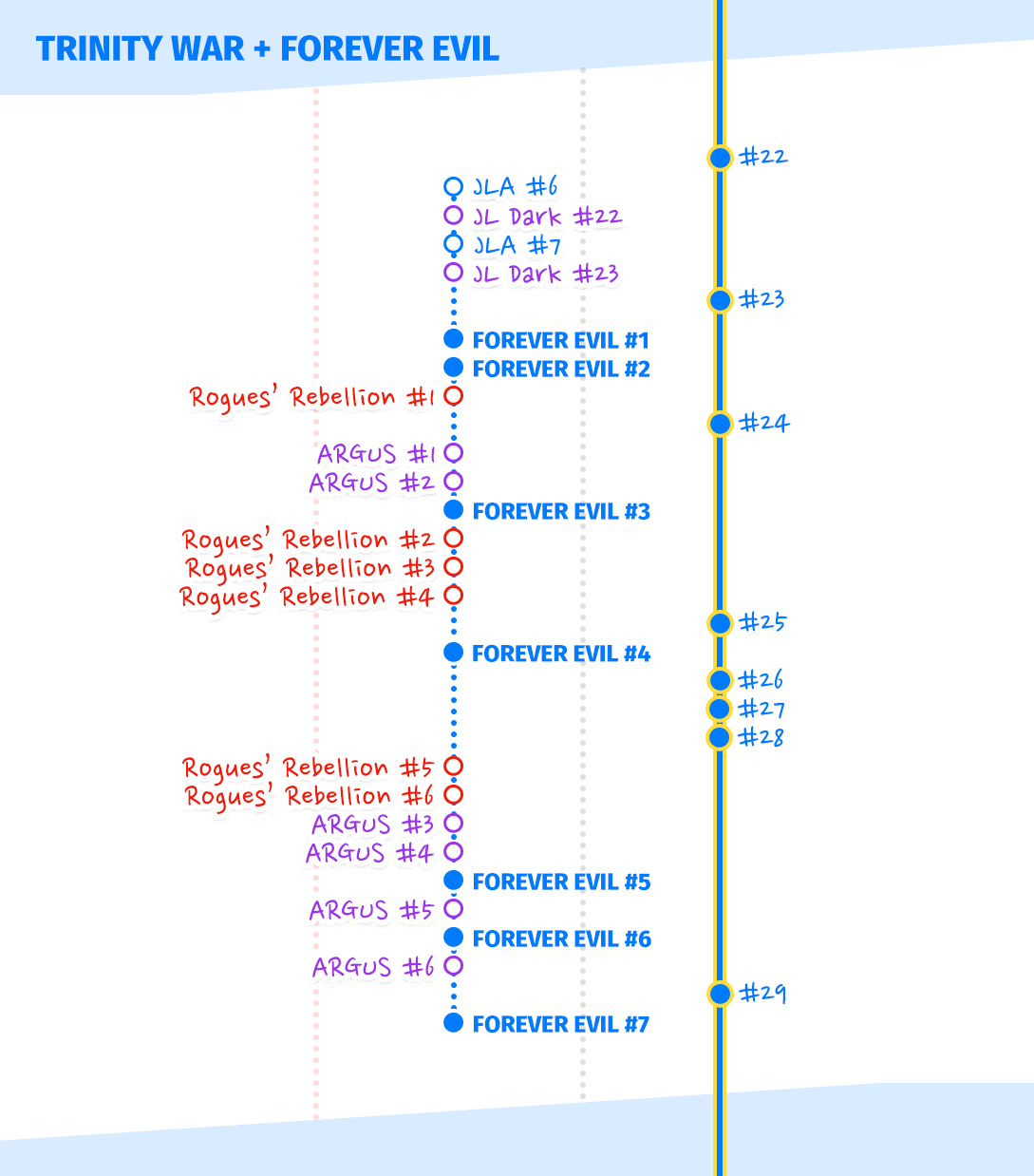 Forever Evil
Spinning out of the pages of Justice League #21 and the mind of Geoff Johns, and putting together 3 different Justice Leagues (THE Justice League, Justice League of America, and Justice League Dark) is Trinity War which continues into Forever Evil. They're labelled as two separate events but combining them together makes the story flow better. For a change, the tie-ins are good, twists are incredible, the character development is exemplary, and it culminates into a brilliant finale. Easily one of my favourite crossover events. Remember to read this crossover in the exact order shown in the graphic.
Post Forever Evil
After Forever Evil, continue reading Justice League till the end, then go back and finish Batman's volume. You can completely skip the rest of Flash's volume as indicated by the dotted line. There's nothing important that happens nor are there any particularly interesting stories.
Once you're up to speed with them all, go ahead and finish up the New 52 era with Final Days of Superman. I know I've not put any Superman issue so far but this one serves as a good transition from New 52 to Rebirth.
Rebirth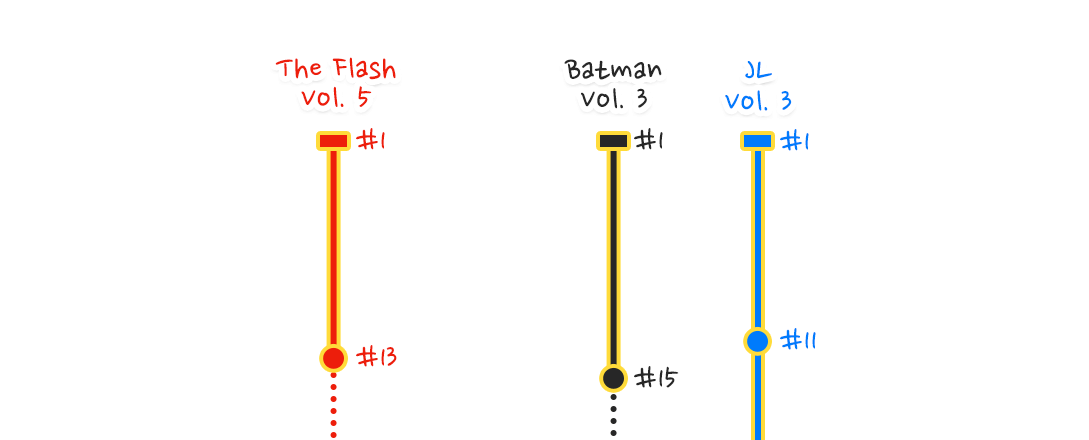 After New 52, DC reboots their whole line AGAIN in 2016 in light of severe backlash from fans. Dive into Rebirth with DC Rebirth, the Flash Rebirth and then Batman Rebirth. Post this, we start new volumes for all our 3 lines!
Joshua Williamson's Flash run starts with Rebirth and continues for 101 issues. He introduces some intimidating modern rogues and brings back certain old ones in a modern retelling, making for a handful of solid stories, albeit not as riveting as Geoff Johns'. I did find Flash to be a tad bit mopey at times during this run.
Dive into Batman Vol. 3, Issues #1 – 15, which marks the beginning of Tom King's reign on Batman. Following up New 52 Batman was going to be tough but King pulls through quite nicely. He builds exciting new villain backstories filling his run with interesting narratives, but also manages to make some questionable decisions.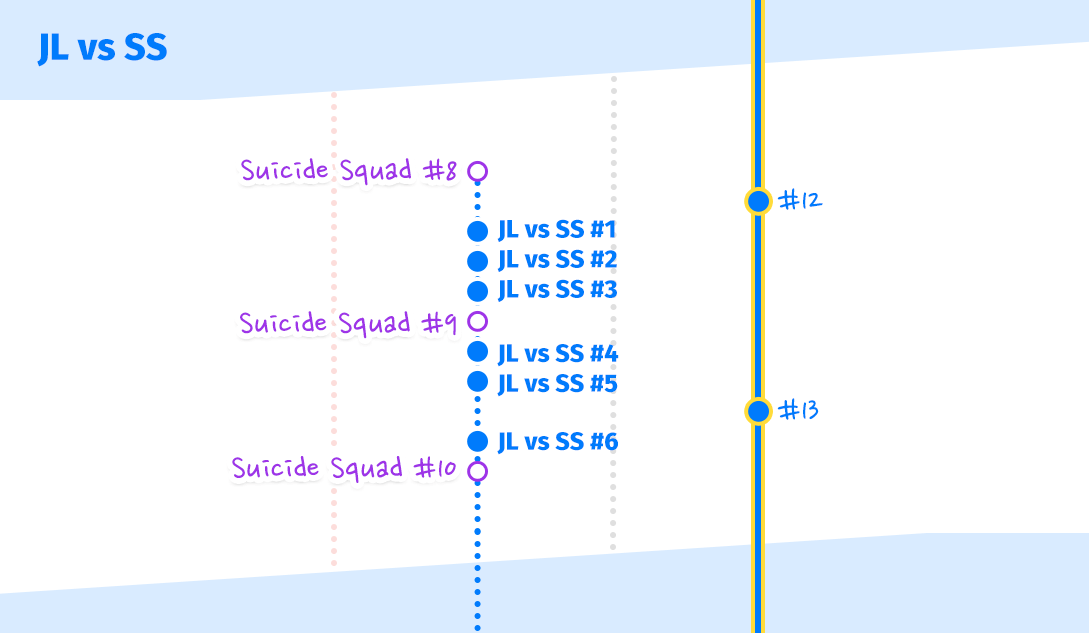 Justice League vs Suicide Squad
We now come to Justice League Vol. 3, which continues to be incredibly interesting! Read #1 – 11, which then spins into Justice League vs Suicide Squad. This is a minor crossover event but is absolutely and unabashedly entertaining. It takes a strong concept and delivers some powerful action and a suspenseful story for most part. Remember to read them in the same order as shown.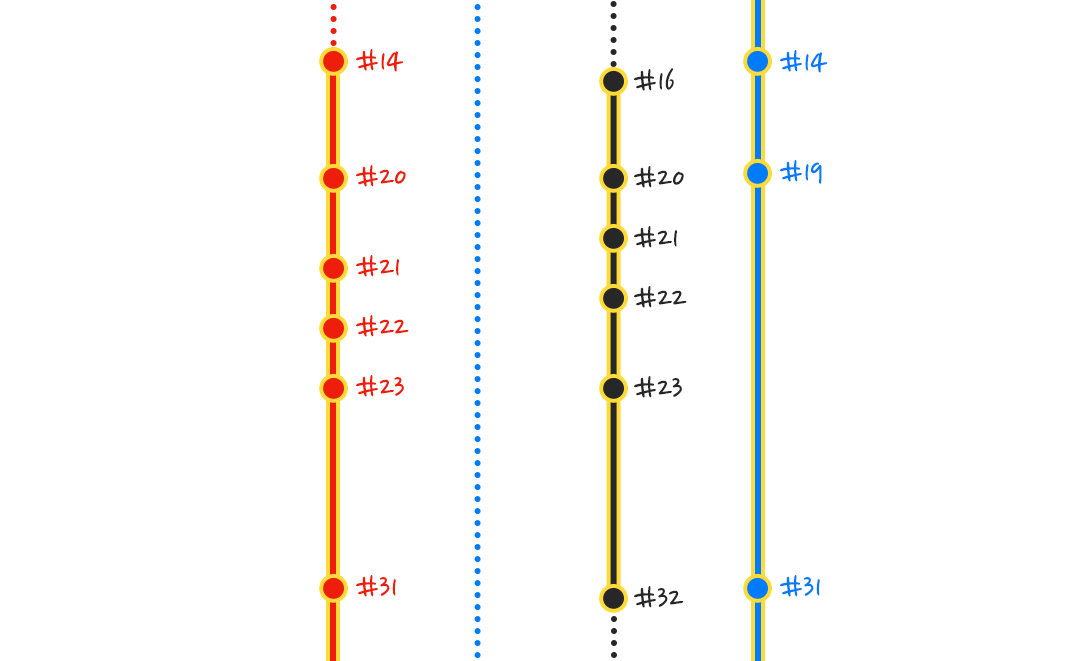 Post Justice League vs Suicide Squad
Post JL vs SS, parallely read Batman and Flash. There's a mini-crossover for #21-22 of both lines that shows the best detectives in the world coming together to solve a mystery. Follow this up with Justice League directly leading into Metal.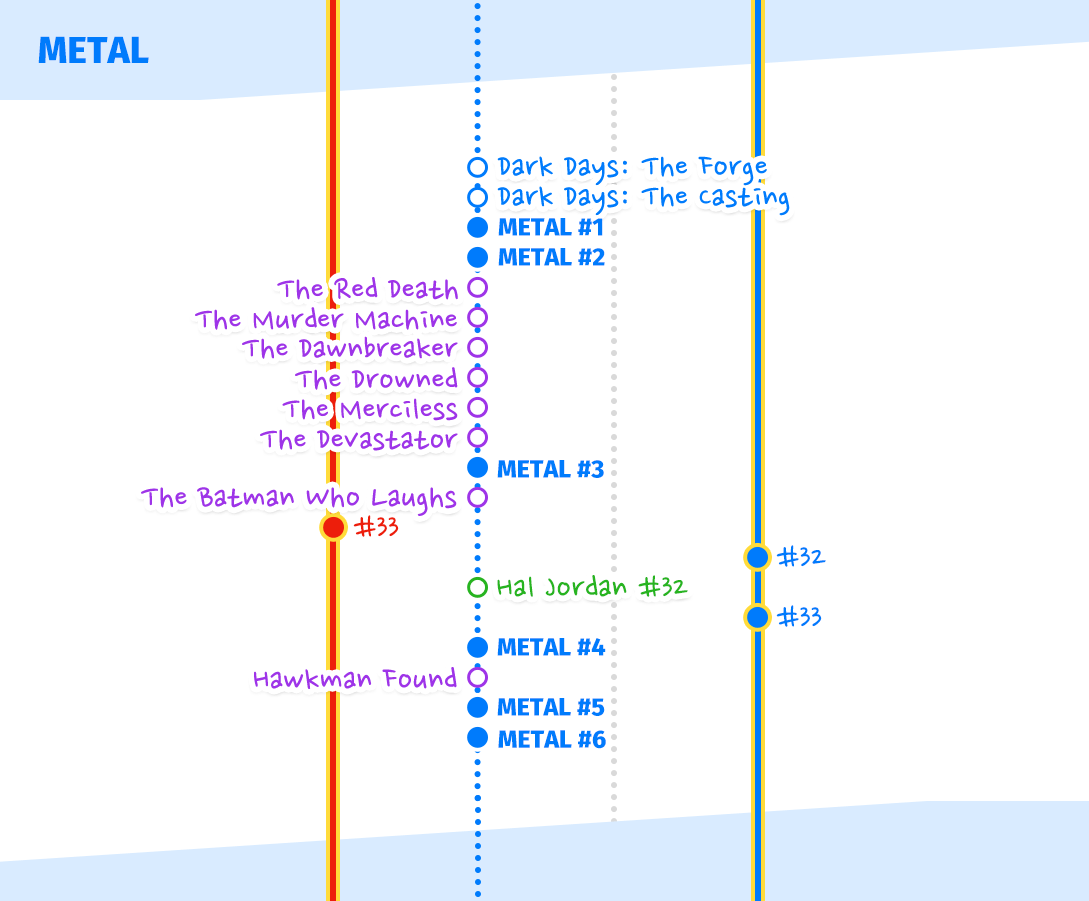 Metal
The duo of Scott Snyder & Greg Capullo goes bonkers and pushes the envelope in this mega-crossover event which is probably my favourite event. It is fun, imaginative storytelling disguised as a shot of adrenaline awash in neon lights and metal music, shot directly into the eye. Outlandish concepts, weird team-ups, and preposterous characters not only make sense here but actually help drive the story and give it a distinct edge missing from other crossover events. That the duo is able to land this in a coherent storyline and still be great for the most part is astonishing.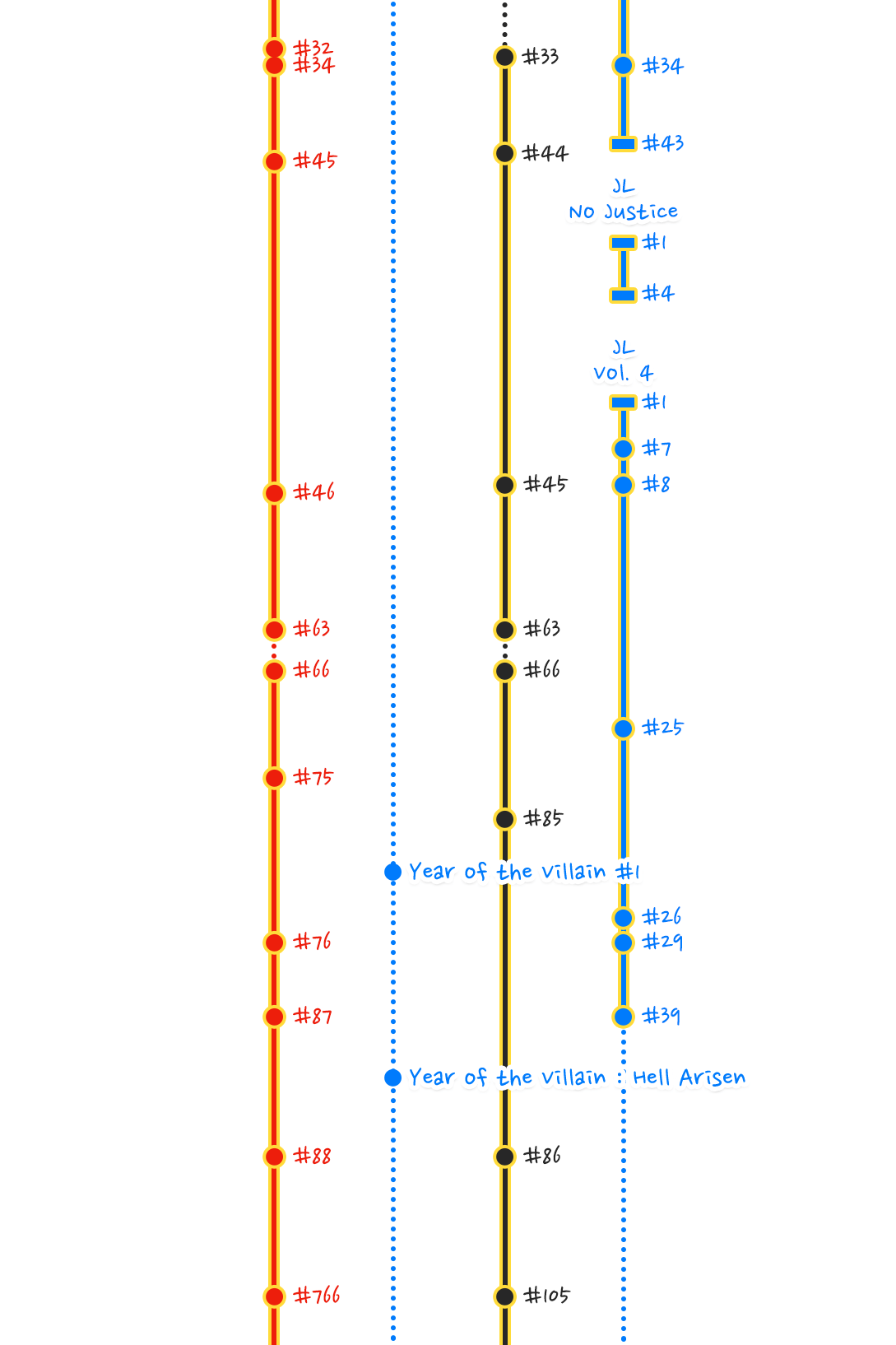 Post Metal
Metal in some ways changes quite a few things around, for Flash and especially for the Justice League, however Batman more or less continues as normal.
Get up to speed with Flash until #45 and Batman until #44 and bring it all in with JL Vol.3 until #43 leading you directly into Justice League: No Justice, right up to Justice League Vol. 4 until #7. After this, you could read all three lines paralelly until Flash #75, Batman #85 & JL #25.
Sitting between Batman #85 & #86 are a myriad of Flash and JL issues that add to a very interesting turn to the story. They're to be read as a partial crossover event, so start with Year of the Villian #1, followed by JL #26 - #29 followed by Flash #76-89, then JL till #39 and finish up with Hell Arisen.
Flash strangely changes numbers at #88, issue #89 becomes #750. Williamson's run ends at #762 with Kevin Shinick taking the baton for all of 4 issues until #766. We can already see Flash going back to science-based adventures which is a slight departure from Joshua Williamson's vision. Go back and finish Batman till #105 and get ready for the last crossover event.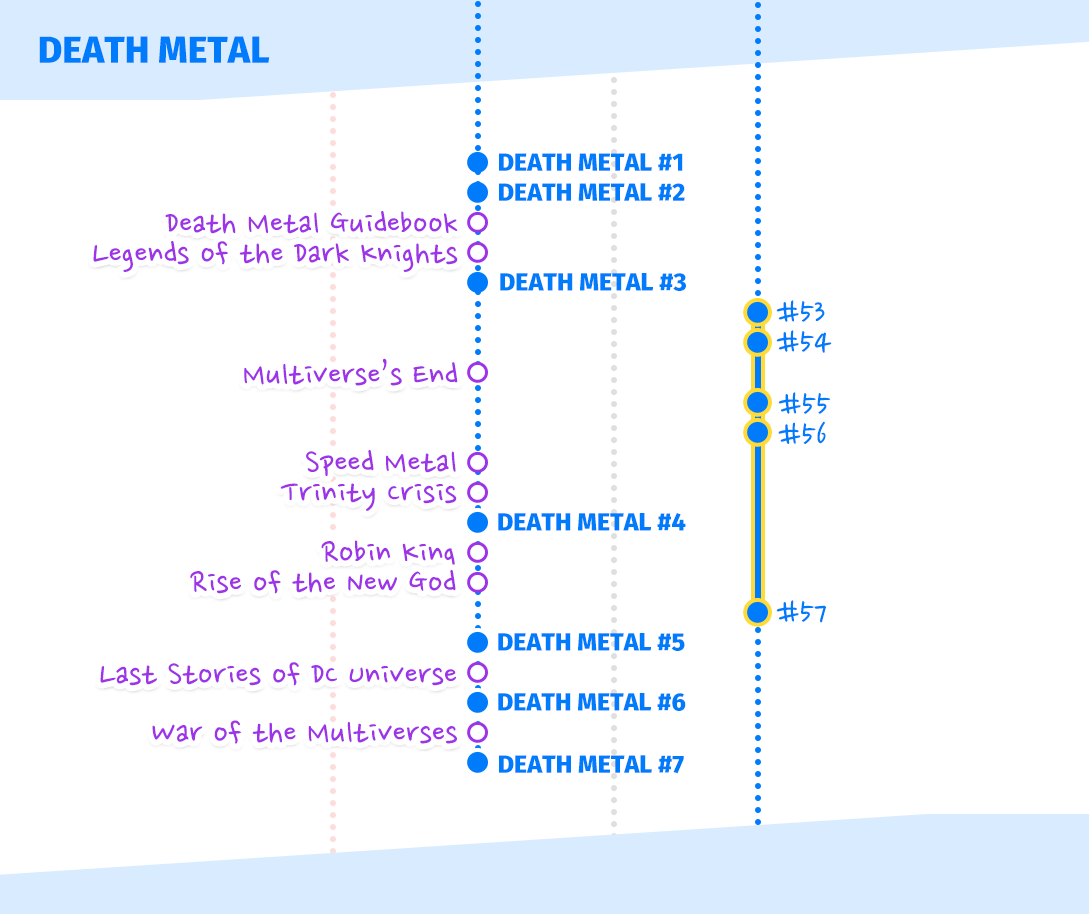 Death Metal
Scott Snyder and Greg Capullo come back to deliver Death Metal - also known as Metal on crack. If you thought Metal was bonkers, wait till you read Death Metal which dials it up to 11 - it even has it's own soundtrack. This is labelled as an "Anti-Crisis" event and it succeeds in a lot of places, including one of my favourite new villains but like Grant Morrison's attempt at Final Crisis, it falls through in some places even thought the ambition is there. Still a solid crossover though and gives us a lot of really cool badass moments especially with Wonder Woman being the protagonist, which was a welcome change. Like Metal, Death Metal is never ridiculous even with the material and concepts they're handling.
You're Caught Up!
You're all caught up on 36 years of superhero madness! I hope I was able to give you a glimpse of the infinite universe of comics and all that it has to offer. It's taken me about 7 years to put this together so if you've made it till here, thank you for engaging with my comic nerdery and hope this has been helpful for you.